Our exterior surfaces take a beating day after day. Not only do the sun, wind and rain take their toll, dirt, debris and general filth compound. It's enough to take your wood, concrete, vinyl and other exterior materials down a notch.
If your home doesn't quite have the appeal it once did, Honest Guys Power Washing will help you restore it. We're the authority for pressure washing service in Waterford Township, MI! We can strip away all of the grime on your property, leaving behind fresh, clean surfaces that look better than they have in years.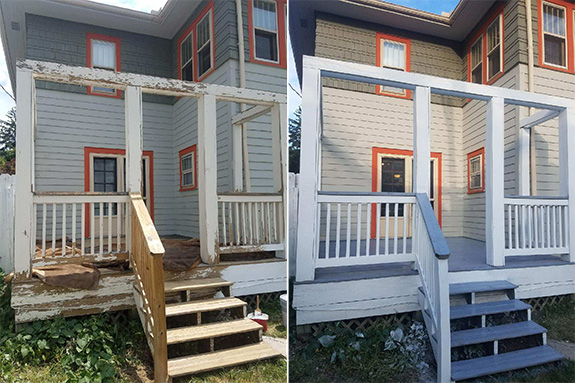 We Wash Everything!
Our pressure washing services in Waterford Township, MI extend to just about any exterior surface or material you have. Thanks to more than a decade in business, we understand the proper cleaning pressure for all types of surfaces. This allows us to thoroughly clean, without the threat of damage.
Our primary focuses include concrete patios and driveways, as well as wood decks and fences. We can also clean various types of siding and will make sure your other surface materials are treated with care. You won't believe your eyes when we're done!
Deck Services
Have a deck that's damaged or in disrepair? Give us a call! We not only clean weather-worn decking, we also repair and reconstruct decks, restoring them to their former glory. Let us give you back your favorite outdoor space and bring back the appeal of this installation.
Call us for Pressure Washing
When you call Honest Guys Power Washing for pressure washing service in Waterford Township, MI, we guarantee results you can see. Whether we're blasting away dirt from your concrete or stripping years of buildups from your deck, count on us to leave behind beautiful results.
Contact us today at 248-568-7152 to schedule an appointment or to learn more about our capabilities.