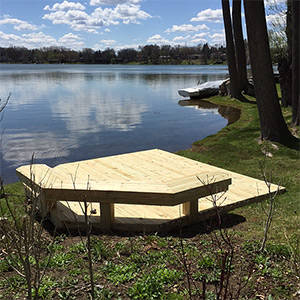 The right deck or patio can add so much to your residential or commercial experience. It is where friends can gather on sunny spring days, restaurant customers can add another layer to their dining experience and family members can enjoy time together or apart. Here at Honest Guys Power Washing, we believe in the power of decks and patios, whether they're serving as outdoor living rooms, providing an added commercial "wow" factor or giving you a makeshift office space on nice days. That is why we put so much hard work, careful thought and diligent planning into each and every patio or deck installation in Commerce Township, Holly, West Bloomfield Township, and Rochester Hills, MI. Here is a closer look at our process:
Careful design: When you first get in touch with Honest Guys Power Washing about new decks & patios, we will take the time to talk with you and find out what is important to you in this project. We will then work hard to find a design that suits your property and your preferences.
Patios: For patios, we work with brick paving services, concrete, wood or composite to achieve the look, feel and special features you are looking for. You will be enjoying your new patio in no time once we get started.
Decks: We work with both wood and composite materials for deck installation construction. Our team of workers is trained to never cut corners, and to always stay faithful to the customer's vision. We promise to treat you and your property with the respect you deserve.
From the first design meeting to the final touches of your new deck installation, we promise that our aim is always to provide you with long-lasting, durable and attractive new decks & patios. For the best name in new decks & patios, power washing, and deck & patio repair in Commerce Township, MI, please contact Honest Guys Power Washing at 248-568-7152, or by sending us a message thru our site.