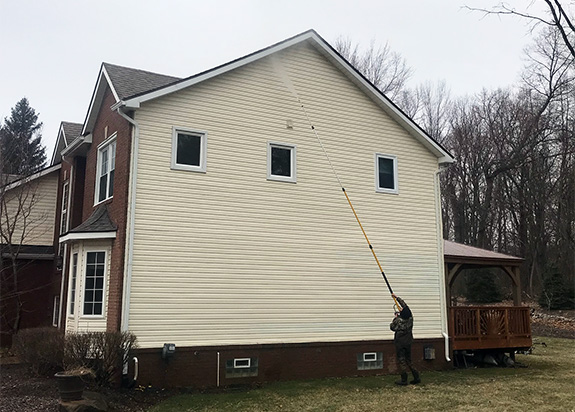 Your exterior surfaces bear the brunt of rough conditions every day. As the years go by, dirt, grime and other debris will build up. The result is a surface that looks worn and weathered. It's more than just an eyesore—it's a problem for your home's curb appeal.
Thankfully, quality power washing service in West Bloomfield Township, MI can strip away the filth and bring your surface back to life! When you want transformative results, call Honest Guys Power Washing. When we're done pressure washing your surfaces, we promise the difference will be night and day.
We Wash Everything!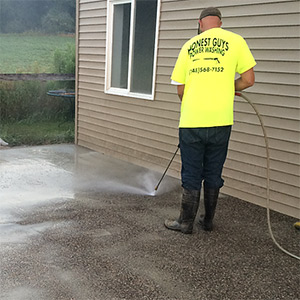 Your property has plenty of outdoor surfaces that are subject to the elements, as well as natural buildups. Our pressure washing services in West Bloomfield Township, MI cover all of them! Enlist our help to thoroughly clean concrete, pavers, wood, vinyl and other surfaces. We'll gladly refresh your driveway, patio, decking, fence, walkway or other surfaces, restoring the integrity of the material and the appeal to your home.
With more than a decade of proven experience, trust that we'll treat your property right. This means cleaning everything thoroughly, using the right pressure settings and even making basic repairs. With us on the job, it'll get done right. We promise you'll see the results.
Deck Services
When it comes to decking, we're the best! In addition to deck cleaning, we also provide repair and reconstruction services. If you're dealing with rot, damage or general weathering, we'll erase it and restore your deck to its former glory.
Call Us for Pressure Washing
Ready to erase the grime from your concrete or breathe new life into your old deck? Contact Honest Guys Power Washing today at 248-568-7152 for pressure washing service in West Bloomfield Township, MI. We promise a job well done, with results that speak for themselves! Let us provide you with a quote on service.